Intel® Turbo Boost Technology — On-Demand Processor Performance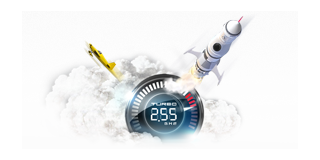 Intel® Turbo Boost Technology1 provides even more performance when needed on 4th generation Intel® Core™ processor–based systems. Intel® Turbo Boost Technology 2.0 automatically allows processor cores to run faster than the base operating frequency if they're operating below power, current, and temperature specification limits.
Dynamically increasing performance
Intel Turbo Boost Technology 2.0 is activated when the Operating System (OS) requests the highest processor performance state (P0).
The maximum frequency of Intel Turbo Boost Technology 2.0 is dependent on the number of active cores. The amount of time the processor spends in the Intel Turbo Boost Technology 2.0 state depends on the workload and operating environment.
Any of the following can set the upper limit of Intel Turbo Boost Technology 2.0 on a given workload:
Number of active cores
Estimated current consumption
Estimated power consumption
Processor temperature
When the processor is operating below these limits and the user's workload demands additional performance, the processor frequency will dynamically increase until the upper limit of frequency is reached. Intel Turbo Boost Technology 2.0 has multiple algorithms operating in parallel to manage current, power, and temperature to maximize performance and energy efficiency. Note: Intel Turbo Boost Technology 2.0 allows the processor to operate at a power level that is higher than its rated upper power limit (TDP) for short durations to maximize performance.
As an independent and complementary feature, Intel® Hyper-Threading Technology (Intel® HT Technology) increases performance of both multi-threaded and single threaded workloads.
Intel® HD Graphics – Incredible Visuals and 3D Imagery
Get your game on with enhanced graphics and gaming technology
The enhanced graphics technology in the new 3rd generation Intel® Core™ processors delivers amazing performance and stunning 3D visuals for mainstream or casual gaming without the need for a separate graphics card.
Now you can enjoy immersive1 gaming on titles that are optimized for Intel HD Graphics,2 including:
Star Wars: The Old Republic
Call of Duty*: Modern Warfare* 3
The Elder Scrolls V: Skyrim
Batman: Arkham City
Intel HD Graphics on 3rd generation Intel Core processors is twice as fast as Intel HD Graphics on 2nd generation Intel® Core™ processors134—it has enough additional headroom for tomorrow's games, and its advanced 3D imaging delivers stunning visual experiences that put you right into the middle of the action.
Find out what games are optimized for Intel HD Graphics before you play
Unprecedented visual performance, from 3D gaming to 3D rendering
No matter what you're doing on your PC—editing photos, watching a movie, battling the bad guys in the latest 3D game—you can do it faster. That's because Intel HD Graphics helps your computer run faster and deliver a smoother, more visually stunning computer experience.
See how built-in visuals deliver incredible visual experiences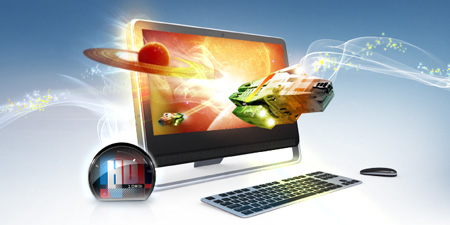 How it works
Whether you're a playing a game, editing a video, or watching one, Intel HD Graphics offers powerful features that enable a highly responsive and stunning 3D visual experience:
Advanced technologies delivers higher performance and better energy efficiency.
Faster 3D rendering and more complex shading create incredibly responsive and realistic 3D gaming.
Intel HD Graphics 4000 delivers immersive mainstream and casual gaming capabilities with entry-level discrete graphics card performance—without an additional graphics card or chip.
Intel HD Graphics 2500 delivers casual and online gaming capabilities without an additional graphics card or chip.